Humble fly key in fight against cancer and motor neuron disease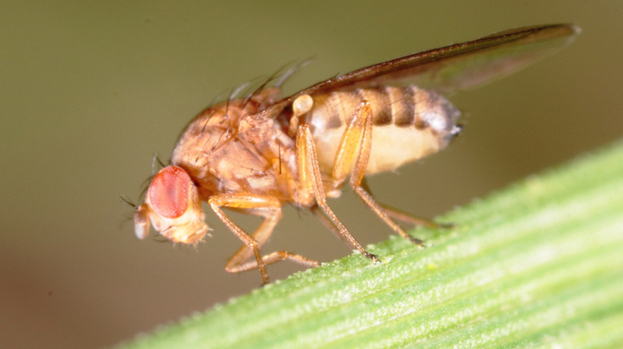 Fruit fly: Scientists in Edinburgh study the flies to try and understand more about humans.The Obbard Lab/University of Edinburgh
Without making firm predictions, Professor Finnegan believes the continued work of scientists on the fruit fly in Edinburgh and beyond could help - one day - find a treatment for MND or some cancers.
He added: No disease has been cured because of studies of drosophila, but we are getting a better understanding of the biology behind quite a number of diseases like cancer.
We believe eventually, maybe in five or ten years, we will be able to predict something that will intervene and stop disease.
Drosophila can be used as an organism to investigate potential drugs. In general, it [the fruit fly] has been hugely important. Drosophila is the most important experimental animal, and has had the most influence.
In most cases, the use of drosophila is leading to a greater understanding on what goes wrong - motor neuron disease, for example.
We all believe that if we understand what goes wrong, we have a fighting chance of addressing it.
I think it is quite reasonable to suppose that research involving drosophila will identify targets for drugs that can be used to treat some forms of cancer.
Research progress
Giusy Pennetta, a 45-year-old lecturer in neuroscience at the university, also believes the fruit fly will help play a key role in the search for a cure of conditions like MND.
She works in the Euan MacDonald Centre for Motor Neurone Disease Research.
The scientist said: Our final goal is to understand the complex molecular network controlling the function of the neurons that die in the patient.
We will be able to decide a therapy that will be efficient. When we know exactly what is going on, we can develop a therapy to cure the disease.
At the moment, Ms Pennetta and her team are collaborating with Imperial College London to look at human patients and identify if what they have found in flies also happens with a human patient.
She added: We have progressed enormously. In just more than ten years, we have learned quite a lot and there is still a lot to learn.
In the past few years, the University of Edinburgh has used research into fruit flies in a wide variety of fields.
Last November, scientists identified a gene which they claim could help solve the problem of infertility in humans.
Work into the sexual reproduction of species which mate with a partner, instead of reproducing asexually, and studies into protecting against diseases like SARS are amongst other recent research.
Professor Margarete Heck is another scientist at the University of Edinburgh who uses fruit flies.
The 53-year-old professor of Cell Biology and Genetics uses the insect to determine how chromosomes - groups of DNA - are formed.
It is a very cheap system and easy to grow, she said. The genes that we have are conserved in the fly so we can very readily, once we identify a gene in the fly, find out about how human cells work.
I think Edinburgh plays a very significant role in this particular field. We have research groups looking at drosophila studying many problems - diseases, the nervous system and how cells move around.
Professor Heck is just one example of how University of Edinburgh scientists are at the frontline of fruit flies research.
She is currently working on a project which could lead to a treatment for Type 2 Diabetes.
One day, these scientists on own doorstep may discover the key to treating some of the conditions which affect millions of people across the globe. For now though, it is back to the lab with the fruit flies.
<div><div></div></div>
source